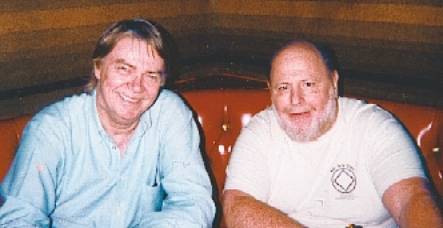 Ron Jacobs Interviews Bill Drake
Publication Date: June 4, 2013
Ron Jacobs Interviews Bill Drake is a revealing look inside the head of Bill Drake, the radio programming genius of '60s top-40 radio. Ron Jacobs, who is also often referred to as a creative genius, is the only person ever able to get Bill Drake to consent to an interview. Jacobs, hired by Drake to be the program director of Boss Radio 93/KHJ, convinced Drake that they should do this interview for posterity -- to finally put to rest the untruths, rumors, speculation and false accounts of how KHJ became the most successful radio station in the U.S.
The two men sat down as friends in one of Bill Drake's favorite watering holes and wound up laying down ten hours on audio tape -- recorded in 1999 over a two-day period.
The transcription of this interview was buried for many years among Ron Jacobs' collection of music and interviews and other 1960s memorabilia. Now that it is unearthed, readers will finally learn how Bill Drake landed the job and how much he was paid when he was first hired by RKO General.
Being such opposite personalities, how did he and Ron Jacobs work so well together?
What big names are dropped throughout the interview?
Read about how the music was selected and how the first Boss Radio promotion was launched. Read Bill Drake's candid opinions of the Boss Jocks and others in the industry.
This Interview is for all who lived, ate and breathed radio in the 1960s and the years to follow. It is for the students of 1960s pop culture. It is for those who grew up with Boss Radio. It is for those who think they know what went on behind closed doors.
Ron Jacobs Interviews Bill Drake permits the reader to be present at the creation of Boss Radio 93/KHJ, that historically became the best top-40 station in the nation.
Now available for immediate downloading for only $9.30 on Amazon. After your purchase, you can read this classic interview on any free Amazon Kindle reader of your choice.
Get your copy of Ron Jacobs Interviews Bill Drake and KHJ Inside Boss Radio each available for $9.30 and each is downloadable exclusively for